Canada announced new measures to reduce processing time for Immigration Application
Sean Fraser -Immigration Minister of Canada – announced new measures to reduce processing time for Immigration Application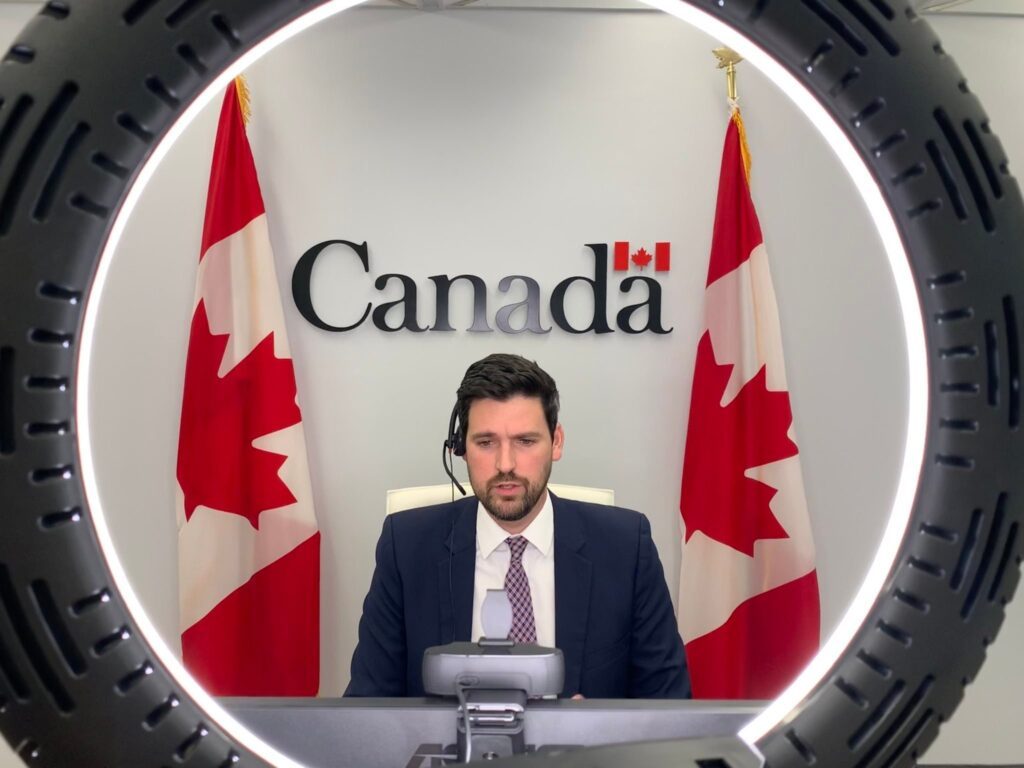 Image : MP Sean FraserOfficial Facebook Page
By Monday morning, Jan 31, 2022, Immigration Minister Sean Fraser presented Canada's plans to get the immigration system back on track. 
Immigration, Refugees and Citizenship Canada (IRCC) will use the $85 million budget to return to the standard processing time for various immigration programs by the end of 2022, according to Immigration Minister Sean Fraser. He said that the budget will allow Canada to return to processing service standards for study permits, work permits, and permanent resident card renewals by the end of the year. Canada is also working to reduce processing times for visitor visas and proof of citizenship.
Fraser announced that IRCC has already made decisions on over 500,000 permanent resident applications in 2021. He also said that Canada is planning to make 147,000 final permanent residency decisions in the Q1 of 2022 – doubling the same period in 2021. Canada will also introduce a new Permanent Residence Application Tracker in upcoming February for spouses and dependents, to allow applicants to see their application information and status online.
Fraser said that Canada will update the online processing times tool in the coming months to give IRCC clients more up-to-date estimates of how long it will take to process applications. In 2020 IRCC was expecting Foreign Skilled Worker Program (FSWP) application processing to take 20 months, well beyond the processing standard of six months for Express Entry-managed programs. The same memo said processing was expected to be nearly eight months for Canadian Experience Class (CEC) candidates.
According to the IRCC briefing in 2020, Express Entry draws would not invite FSWP and CEC candidates for the first half of 2022. Immigration Minister Fraser did not give a date for when these draws would resume. He said pausing these draws to process the Express Entry inventory will allow IRCC to eventually hold draws without further exasperating the backlog.
Immigration Canada is currently facing a backlog of more than 1.8 million people waiting on decisions. This includes citizenship applicants, temporary foreign workers, families, students, refugees, and visitors. The Express Entry backlog alone stands at about 119,000 applicants as of December 2021 according to IRCC. For Express Entry Applicants in Canada who may have to leave their jobs or go back to their home countries while IRCC holds off on draws for certain Applicants, Fraser said they are looking at options to keep workers in Canada, but they have not yet come up with a perfect solution.
"I know that processing delays have been incredibly frustrating for many individuals. Helping clients come to Canada quickly, with predictable processing times and efficient communication with IRCC, remains a top priority for me, Immigration benefits all Canadians—it helps grow our economy and strengthens our communities across the country. Many people are choosing Canada as the place to visit and build their future, and to ensure that we stay competitive, we have introduced concrete measures to make sure those who want to come to Canada have the client experience they deserve." Minister Fraser said in a media release.
IRCC expects the online application portal to be fully administered in the upcoming spring or summer of 2022. IRCC says so far these efforts have allowed average processing times for spousal sponsorship applicants to return to the service standard of 12 months for new applications.
According to IRCC Media release, recently issued it is using advanced data analytics to speed up Temporary Resident Visa (TRV) applications. The system does not refuse or recommend refusals of applications, IRCC says only immigration officers can do that. It was first applied in 2018 and allows applications to be assessed 87% faster. IRCC has also developed a portal to allow permanent residence applicants in Canada to finalize their process and receive their permanent residency cards without any in-person interaction. From June 2021 to December 2021, 225,000 permanent residents have used this portal.
For citizenship applicants, IRCC has introduced online testing, created an online application tracker, and launched virtual citizenship ceremonies. Canada has sworn in 170,000 new Canadians since April 1, 2020. Canada is continuing to expand the use of virtual ceremonies.
In the future, Canada is looking to allow people to self-administer their Oath by signed attestation, and celebrate their citizenship at a later date. This would shorten the waiting time for those at the final stage of their citizenship process.
Want to apply for a Canadian visa? Click here to start the process with our help →
#Canada #ExpressEntry #FSW #canadaimmigration #GIC