Post Graduation Work Permits
The PGWPs (post-graduation work permits) are a great way to get experience working in Canada after finishing your studies. They offer international students the opportunity to obtain an open permit that allows them freedom and flexibility while allowing employers from anywhere across our beautiful country to access their skill set, whether for just one day or ongoing employment options.
PGWPs are a great and easy option to obtain excellent Canadian work experience. Once an applicant has the PGWP, it leads to various opportunities in terms of careers in Canada, and permanent residence will follow!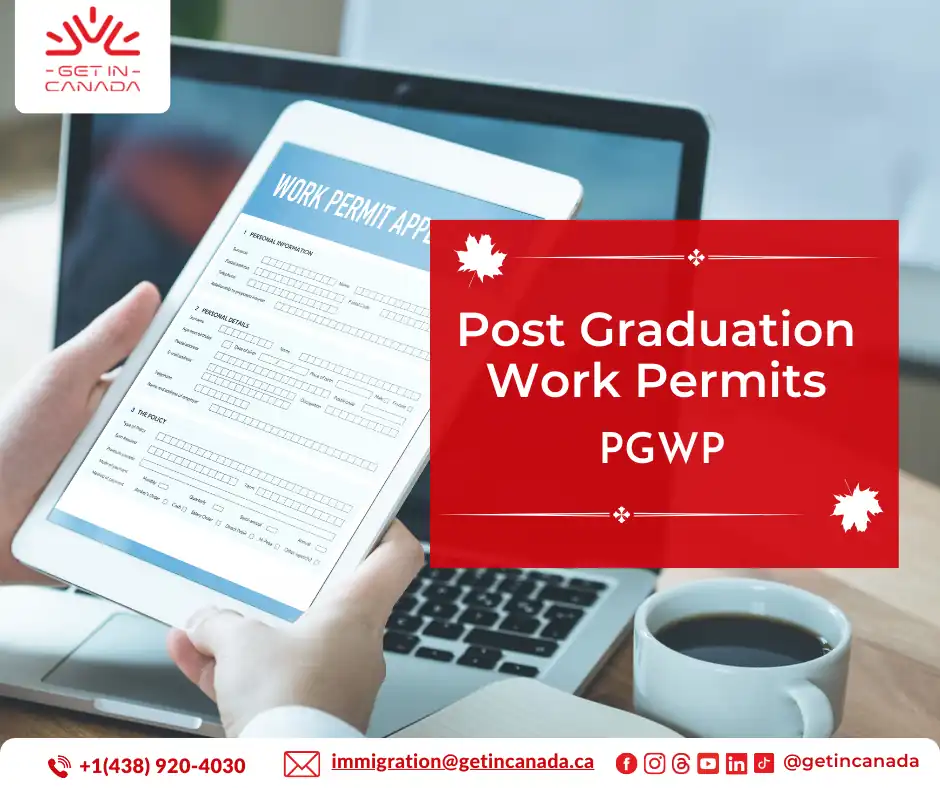 What is a post graduate work permit PGWP?
Who is eligible for PGWP?
To be eligible for a PGWP, international students must meet the following criteria:
Completion of an Eligible Program: You must have graduated from a designated learning institution (DLI) in Canada and have completed a program that is at least eight months long.
Full-Time Study: You must have continuously studied full-time during your program, except for the final semester, which can be part-time.
Apply Within 180 Days: You must apply for the PGWP within 180 days of receiving written confirmation (e.g., transcript, official letter) of completing your program.
Valid Study Permit: You must have held a valid study permit when you applied for your program and throughout your studies in Canada.
Graduated from a:

Public Post-Secondary School, such as a college, Trade/Technical School, University, or CEGEP (in Quebec), or
Private Post-Secondary School (in Quebec) that operates under the same rules as Public Schools in Quebec, or
Private Secondary or Post-Secondary School (in Quebec) that offers qualifying programs of 900 hours or longer, that lead to a Diplôme D'études professionnelles (DEP) or an Attestation De Spécialisation Professionnelle (ASP), or
Canadian Private Schools can award degrees under provincial law (for example, Associate, Bachelor's, Master's, or Doctorate Degree) but only If you're enrolled in a study program that leads to a degree as authorized by the province.

Find out if you are eligible to get in Canada →
Who is not Eligible for PGWPs?
You aren't eligible for a PGWP if you:
Already received a post-graduation work permit.
Studied English or French as a second language.
Took general interest or self-improvement courses.
Participated in the Government of Canada awards program funded by Global Affairs Canada (GAC).
Had funding from GAC.
Got an equal opportunity scholarship, from Canada Chile.
Participated in the Canada-China scholars exchanges program.
Participated in the organization of the American States fellowships program.
Completed the majority of a study program by distance learning (online courses, e-learning, or correspondence).
Completed a study program at a non-Canadian institution located in Canada.
Post Graduation Work Permit PGWP Opportunities
With a PGWP in hand, international graduates have several options:
Gain Canadian Work Experience: Secure employment in Canada to build a professional foundation in your field of study.
Apply for Permanent Residency: Use your Canadian work experience to enhance your eligibility for permanent residency through programs like Express Entry or Provincial Nominee Programs (PNPs).
Explore Provincial Nominee Programs: Some provinces offer specific immigration pathways for graduates who have completed their studies in that province.
Extend Your Stay: If you wish to stay longer in Canada, explore options for extending your work permit or transitioning to another type of visa.
Time duration for Approval
Your permit to work in Canada is a process that takes 80-180 days. While you wait, you are free to find employment provided for students applying before the date their permits expire. It is 180 days after completing all study requirements and successfully graduating from an academic program.
How many times can you apply for PGWP?
You can apply once. If you're planning on taking another program of study that is a continuation of a more extended degree, consider applying for your PGWP strategically. Applying after the longest period will grant more time with a validity of up to three years at most!
Canada's Post Graduation Work Program is a unique and quite efficient path for international students in Canada to gain permanent residence status. By completing Canadian education and gaining meaningful full-time work experience, candidates can easily apply under the Canadian Express Entry immigration system!
If your passport expires before your PGWP should
Make sure your passport is valid for the entire time you should be eligible. If your passport expires earlier:
IRCC will only issue you a PGWP that's valid until your passport expires.
IRCC will tell you if you need to extend it to get the full validity.
You can only extend a PGWP if IRCC tells you to. If this happens, you have to apply on paper to extend your PGWP to be valid for the full length it should be.
If you transferred between designated learning institutions (DLIs), the combined length of your studies must be at least 8 months to be eligible.
If you transferred from a school that is not a DLI to one that is, only the time studying at the DLI will be counted. The length of the time spent at the DLI must be at least 8 months to be eligible.
Canadian Study Programs With An Overseas Component
If your study program has an overseas component, you may be eligible for a PGWP as long as you earn credit from a Canadian school for it. The PGWP will only be valid for the length of time you studied in Canada.
To be eligible for a PGWP, a flight school graduate must meet all the eligibility above and one of the following:
Have completed a flight training course at a DLI training centre and now have a Canadian Commercial Pilot's License or
Have or be in the process of getting an instructor's rating and a job offer as a flight instructor from a DLI Flight Training Centre.
Supporting Documents for PGWP
You must include these documents with your PGWP application:
The certificate or official document that confirms you completed your program, or an official transcript from a Quebec school board or recognized Private School.
An official letter from the school confirms the length of the study program (in hours or months) and the program code.
Find out if you are eligible to get in Canada →