Who is eligible for PNP in New Brunswick 2023?
The New Brunswick Provincial Nominee Program (PNP) is an immigration program designed to attract skilled foreign workers, entrepreneurs, and international graduates to the beautiful province of New Brunswick, Canada. Administered by the government of New Brunswick in partnership with Immigration, Refugees and Citizenship Canada (IRCC), the New Brunswick PNP offers various pathways for individuals who wish to live and work in the province permanently.
You and your family members and additional dependents can receive the same opportunity. Suppose you are serving in Canada, have a previous work practice in Canada as a foreign worker, or did a job in Canada or New Brunswick as a temporary occupant and are now thinking of Canadian immigration.
This will assist you a lot in knowing the basics about immigration to New Brunswick, a province with excellent work opportunities and low costs of living compared to other Canadian provinces. If you wish to immigrate to New Brunswick, you will have 5 immigration program options in New Brunswick.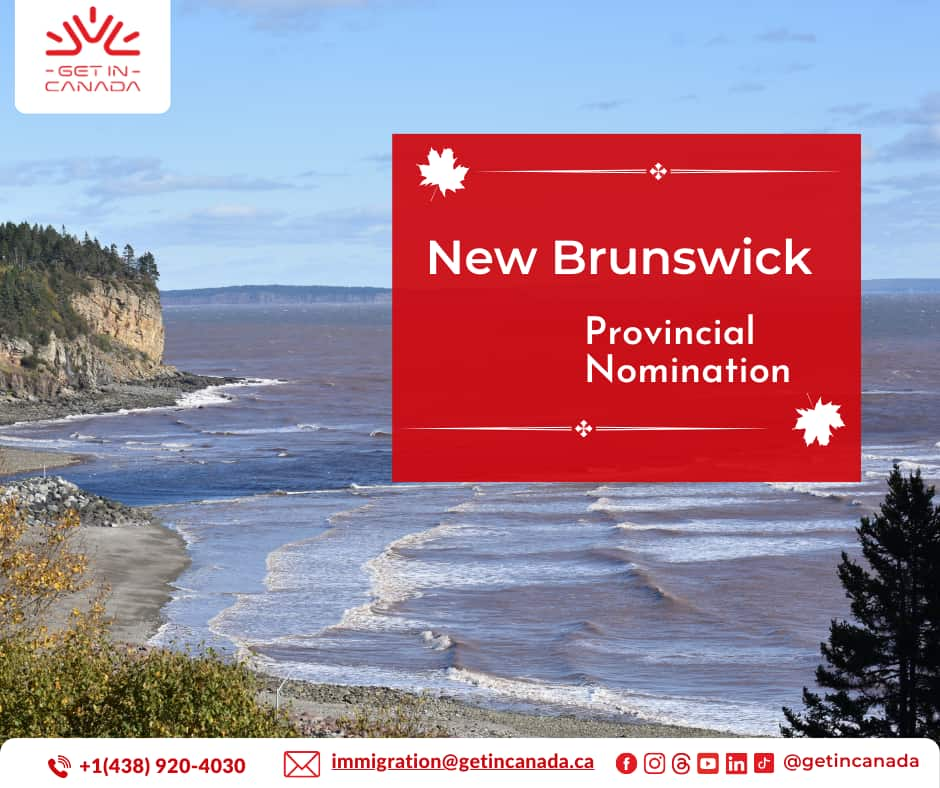 The New Brunswick Skilled Worker Stream NBSWS is a program that supports Skilled Workers who received a legitimate, full-time job offer from an employer/ Company in New Brunswick.
Minimum Requirements of NBSWS
Have a full-time, permanent job offer from an employer in New Brunswick, along with a letter of support from this employer.
Must have a foreign diploma equivalent to a Canadian high school diploma.
Age between 19 and 55 years.
Must prove the intention to reside Permanently in New Brunswick.
Must have English or French Language test results equal to a CLB4
2. Express Entry Stream in New Brunswick
The Express Entry Labour Market Stream (NBEE) of New Brunswick grants a path to permanent residency for highly experienced applicants interested in the program. This program is followed by the governmental EE emigration system and works according to the Expression of Interest Model.
Minimum Requirements of Express Entry Stream in New Brunswick EENB
Must have an Express Entry Profile.
Must be currently a resident of New Brunswick.
Must have a (JOB Seeker validation Code) or an actual enrolment in a federally designated institution's eligible program for a postgraduate work permit.
Must have English or French Language test results equal to a CLB47.
3. Strategic Initiative Stream in New Brunswick
The Strategic Initiative Stream is designed for Francophone workers who have the intention of living in NB permanently and who possess the necessary skills, education, and work experience that could help build the New Brunswick economy. The minimum requirements are as follows:
Must have the Intention to live in NB.
Must be 19 to 55 years old.
Must have a foreign diploma equivalent to a Canadian high school diploma.
Must have sufficient settlement funds.
Must have a valid French Language test results in a Niveaux de compétence linguistique canadiens (NCLC) 5.
The New Brunswick Critical Worker Pilot Project (NBCWP) represents a unique collaboration between the New Brunswick provincial government and the federal government that was brought out in November 2022.
With the aim of tackling significant labour shortages within the province, the Canadian federal government is partnering with Immigration and Opportunities NB, along with six chosen employers in New Brunswick, to implement an innovative immigration pilot project. This initiative seeks to attract and integrate skilled foreign workers into the province, addressing the pressing need for a qualified workforce.
The six chosen employers are:
5. Atlantic Immigration Program
The Atlantic Immigration Program operates as an employer-driven initiative, facilitating the recruitment of foreign nationals. To be eligible for this program, all main applicants must possess a job offer from a designated employer, along with an individualized settlement plan for themselves and their families.
When a designated employer identifies a candidate who satisfies their employment requirements and the program criteria, the employer must extend a job offer to the candidate. The employer is not required to undergo the process of obtaining a Labour Market Impact Assessment (LMIA).
Once the candidate accepts the job offer, the employer will connect them with a designated settlement service provider organization. This organization will conduct a needs assessment and assist in developing a settlement plan for the candidate. Additionally, the employer will provide support for the successful integration of the new immigrant and their family, if applicable, to ensure they can achieve the objectives outlined in their settlement plan upon arrival in Canada.
If an employer needs to fill a job vacancy urgently, they will have the option to obtain a temporary work permit, allowing the candidate and their family to come to Canada as quickly as possible.
To acquire this work permit, candidates must possess:
A valid & legitimate job offer.
Correspondence confirming the offer of employment from the province.
An undertaking to initiate the process of applying for permanent residence within 90 days of submitting the temporary work permit application.
According to the Comprehensive Ranking System, the minimum CRS score for the applicant applying for this program is 50, but the average score to increase the chances must be 67 out of 100.
Through the NBPNP, prospective immigrants with the skills and experience targeted by the province may receive a New Brunswick provincial nomination certificate. With this nomination, foreign nationals may then apply for Canadian permanent residence.
Want to apply for a Canadian visa ? Click here to start the process with our help →