British Columbia Provincial Nominee Program BC PNP
British Columbia is recognized for the inimitable natural beauty of its coastlines and mountains, which contribute significantly to its top ranking as one of Canada's most desirable destinations. The province also benefits from a thriving economy with growing labour needs that make it an attractive location among immigrants looking to be part of this economic success story.
As part of its immigration strategy, the province offers the British Columbia Provincial Nominee Program (BC PNP). This program provides a pathway for skilled workers, entrepreneurs, and graduates to settle and contribute to the province's growth. With its attractive opportunities and high quality of life, the BC PNP has become a sought-after option for individuals seeking to make British Columbia their new home.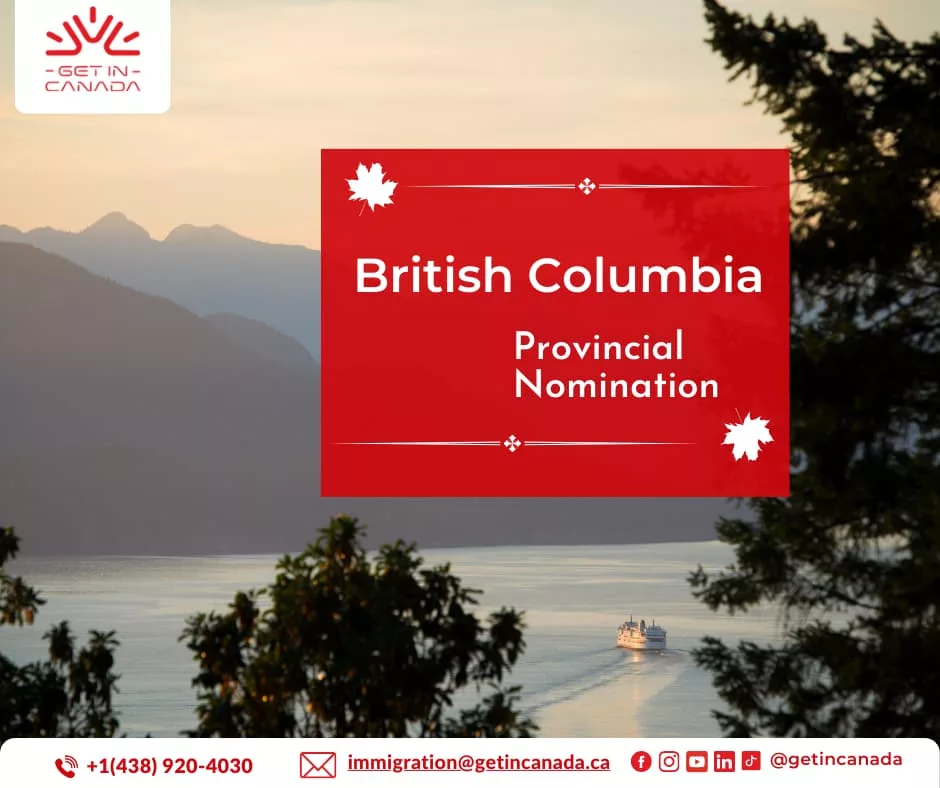 The categories of British Columbia BC PNP immigration program include:
The Skills Immigration Stream within the British Columbia Provincial Nominee Program (BC PNP) caters to a wide range of individuals including skilled workers, healthcare professionals, international graduates, post-graduates, as well as entry-level and semi-skilled workers.
To be eligible, all applicants must possess a job offer or currently hold a job, with the exception of international post-graduates. This stream provides an avenue for diverse professionals to contribute their expertise and talents to the workforce of British Columbia.
Immigration Ranking System
Factor
Maximum Points
Economic Factors (120)
Skill Level of the B.C. Job Offer
60
Wage of the B.C. Job Offer
50
Regional District of Employment
10
Human Capital Factors (80)
Directly Related Work Experience
25
Highest Level of Education
25
Language
30
Total Available Points
200
The stream is designed to target immigrants who have an offer of employment from a BC employer for a skilled occupation. Eligible candidates are assigned points based, and only individuals with the most competitive ranking are invited to apply to the PNP.
B. BC Healthcare Professional
The stream is designed to target immigrants who have an offer of employment from a BC health authority for an eligible occupation in healthcare. If a foreign national meets the requirements for the program, they can apply at any time.
C. BC International Graduate
The stream is designed for recent graduates from Canadian post-secondary educational institutions who have an employment offer from a BC employer. Eligible candidates are assigned points, and only individuals with the most competitive ranking are invited to apply to the PNP.
D. BC International Post-Graduate
The stream is designed for recent graduates who have received a Master's or Doctoral degree in British Columbia. Only certain schools and programs are eligible for this pathway. If you meet the requirements for the program, you can apply at any time.
Express Entry British Columbia is an immigration program that operates in alignment with the federal government's Express Entry system, providing eligible applicants with priority processing for their BC PNP (British Columbia Provincial Nominee Program) application and, if nominated, their permanent residence application.
Skill Immigration Catigories are as follows:
and the processing time typically ranges from 2 to 3 months.
Application Process for EE System BC
The application process for the EE BC goes as follows:
The process begins with having a valid Express Entry profile with Immigration, Refugees and Citizenship Canada (IRCC).
Then, applicants need to register with the Skills Immigration Registration System (SIRS), allowing B.C. to assess their qualifications, including job, education, location, language ability, and wage, against the provincial labor market needs.
While candidates for the International Post-Graduate and Healthcare Professional categories can directly apply through BCPNP Online, others must complete the registration with BCPNP Online.
Based on various factors, applicants receive a registration score and enter a selection pool for their chosen category.
Selected candidates have 30 days to submit their application through BCPNP Online. If chosen, they receive a provincial nomination through the Express Entry system and are required to accept the nomination accordingly.
British Columbia is an excellent place for entrepreneurs who have been successful in their own country and want to start something new. The government has different programs that target foreign nationals or companies with high annual revenues, so it's worth checking out.
How does BC Entrepreneur works?
CRS Ranking System
Scoring Sections
Points
Self-declared
Experience
20
Ownership
4
Net Worth
12
Total Personal Investment
20
Jobs
20
Regional District
12
Adaptability
32
Self-declared SUBTOTAL score
120
Business concept
Commercial Viability
30
Transferability of Skills
20
Economic Benefits
30
Business concept SUBTOTAL score
80
Maximum Score Available
200
The stream targets experienced business owners and managers who wish to live in British Columbia permanently. Applicants must demonstrate management experience and personal net worth. Successful applicants can invest in purchasing and managing a new or existing BC business. Then, the applicant becomes eligible for Canadian permanent residence.
BC Entrepreneur Regional Pilot
The Stream of the BC PNP is for experienced entrepreneurs who want to invest in and manage a business in British Columbia. Applicants must be referred by one of the program's participating communities in BC.
It targets successful foreign-owned companies who wish to establish a new branch or operation in BC. Successful companies will be required to transfer key staff to BC to manage their new proposed process. Also, they must prove their ability to generate significant annual revenue. After meeting the requirements, some staff members become eligible for permanent residence.
BC PNP Tech is designed for skilled foreign nationals working in one of BC's fast-paced tech occupations. The Tech program aligns with Skills Immigration, so interested applicants should review the various streams within this category to find their best fit and qualified immigration option.
BC PNP Eligible Occupations
| | |
| --- | --- |
| NOC Code | Job Title |
| 0131 | Telecommunication carriers managers |
| 0213 | Computer and information systems managers |
| 2171 | Information systems analysts and consultants |
| 2131 | Civil engineers |
| 2132 | Mechanical engineers |
| 2133 | Electrical and electronics engineers |
| 0512 | Managers – publishing, motion pictures, broadcasting and performing arts |
| 2134 | Chemical engineers |
| 2147 | Computer engineers (except software engineers and designers) |
| 2172 | Database analysts and data administrators |
The program has unique job offer requirements. Your job offer must be for any in-demand occupations to qualify for the program. If the applicant already works for the employer, they must have at least 120 days remaining in that position time of application submission.
Want to apply for a Canadian visa ? Click here to start the process with our help →