How to Immigrate to Prince Edward Island without IELTS?
Many people often find it difficult to find a job in Canada mainly because of the IELTS score condition in most, if not all, job applications in Canada.
Prince Edward Island is one of the Canadian provinces that mainly request an IELTS score for immigration and job offers, but you might have a chance to have a job without IELTS!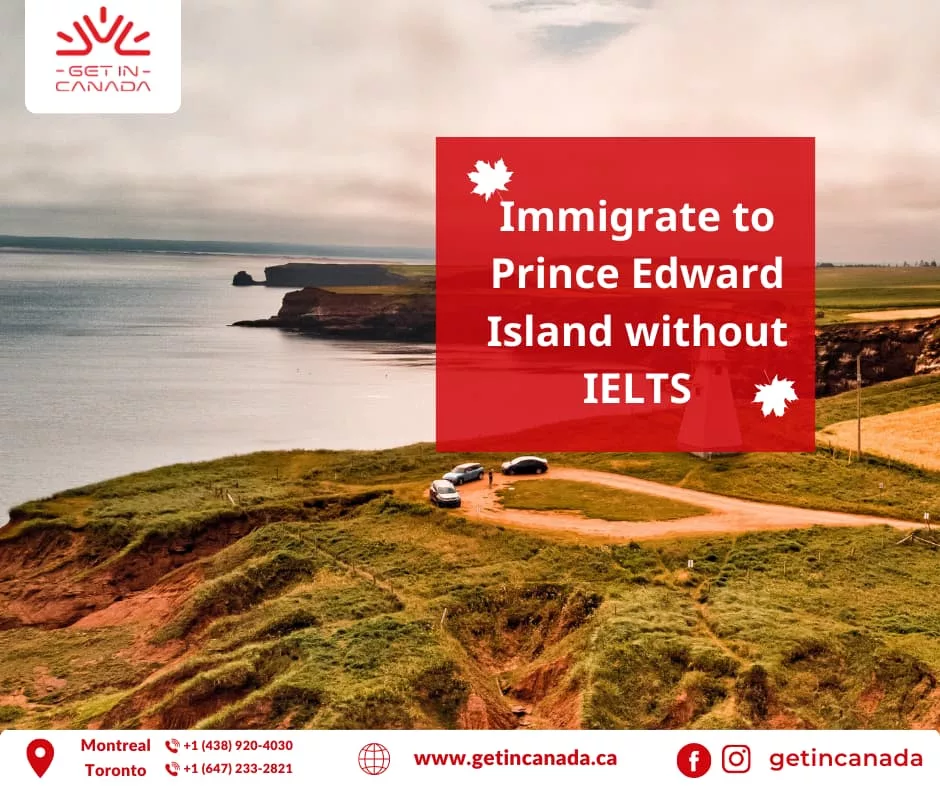 What are the currently available streams for Prince Edwards Island?
You can apply for the following streams to immigrate to work and live in Prince Edward Island:
Atlantic Immigration Program specializes in 4 main provinces: New Brunswick, Newfoundland and Labrador, Prince Edward Island, and Nova Scotia.
Express Entry stream.
Labour Impact stream, which consists of main streams:

Skilled Workers in Prince Edward Island: This stream is for candidates currently working in PEI and can receive a provincial nomination. The Canadian Government normally facilitates their stay inside Canada by giving them advantages. Examples of the fields: Food processing, manufacturing, and healthcare.
Critical Workers: This stream is for candidates who have worked in PEI for at least six months on full-time jobs and can be eligible for a provincial nomination, such as HealthCare, Hospitality work, truck driving, housekeeping, and customer services.
Outside-Canada: eligible candidates from outside Canada must have a permanent or temporary(2years) full time job offer.
For more Canadian visa inquiries? Click here to start the process with our help →
Eligibility requirements for candidates from outside Canada
Candidates who desire to apply for a direct stream to get their PR in Canada, specifically in Prince Edward Island, must meet the following eligibility requirements, and the good news is, you can have a job without IELTS!
Be 18-59.
IELTS score: you need to know that an IELTS score is necessary, the PEI mostly require 4, but the good news is there is an exception in regards of the IELTS, the employer could write a letter demanding approval for your request without IELTS because they think you have the required English proficiency skills.
Work Experience: You must have relevant recent work experience of at least 2 years.
Any certificate following your high school certificate.
Your job offer must be 0,1,2,3 in TEER Category.
Important tips to get a job in Prince Edward Island
First, you need to get a job offer (Permanent or Temporary) in PEI.
Proven relevant Experience in the field you are applying for.
IELTS score of 4; if you can't get an IELTS, you can ask the employer to write you a letter that says you have good language skills.
You can benefit from the following websites to find a job: Indeed, Linked In, and Job Bank.
Most in-demand jobs in Prince Edward Island PEI
most demanded jobs in Prince Edward Island are:
NOC 33102 (Nurse aides, orderlies and patient service associates)
NOC 73300 (Transport truck drivers),
NOC 75110 (Construction trades helpers and labourers), or
NOC 65310 (Light duty cleaners)
NOC 95109 (Other labourers in processing, manufacturing and utilities)
NOC 75101 (Material handlers)
NOC 94140 (Process control and machine operators food and beverage processing)
NOC 94141 (Industrial butchers and meat cutters, poultry preparers and related workers)