National Occupation Classification (NOC)
What is National Occupation Classification? 
National occupation classification (NOC) is a Canadian system that classifies all occupations or jobs in the Canadian Labour market. The NOC is basically a joint project between ESDC and Statistics Canada which essentially classifies over 30.000 occupations into 500-unit groups, these groups will be organized in relation to 4 levels of skills, and 10 types of skills.
Employment and Social Development of Canada (ESDC) have released the latest edition of the National Occupation Classification on the 21st of September 2021, the system is currently used for describing occupations so you are able to visit the NOC and know the classification of your occupation and get to know more regarding duties, requirements, among other things.
Who uses NOC?
The NOC is mostly used by Students, employers, education & training organizations, workers, and career counselors. It is available for online use and its structure is planned to be updated and revised every 10 years.
You can visit the official government website, and the search can be done by job title, or by NOC code.
How can I know my national occupation classification code?
The National Occupation Classification code is the number your job is listed under in the official occupation classification system of Canada, and choosing the right code is a very important step in your immigration application because in case you chose an incorrect code that doesn't match your experience, your application might be declined or returned to you.
The NOC code has a related job title, lead statement, and work duties and responsibilities, the job title is not as important as the work experience must match your lead statement as well as performing the duties & responsibilities.
Organizing the NOC occupations takes place after assigning the occupation or job two things, including a Skill Type which is normally defined by the first digit of the NOC code, and a skill level which is defined by the second digit of the NOC code.
The immigration programs of Canada normally indicate occupations as High skill level or Low skill level.
High-skilled occupations are classified as skill levels: A, B, or skill type O.
Low-skilled occupations are classified as Level C or D.
Other immigration programs are usually referred to as semi-skilled work including occupations classified as skill level A, B, C, or skill type 0.
NOC skill levels
Listed below are levels of occupations of NOC skill types:
Skill level 0 (Zero): HR Managers, Electrical & Mechanical Engineers, IT Managers, Financial Managers, and Marketing Managers.
Skill level A: Architects, Doctors, Dentists.
Skill Level B: Electricians, Chefs, Plumbers.
Skill level C: Food and beverage servers, Industrial butchers, long-haul truck drivers.
Skill level D: Oil field workers, Fruit Pickers, Cleaning staff
NOC skill types
Skill type 0: Management occupation.
Skill type 1: Business, finance, and administration occupations.
Skill type 2: Natural and applied sciences and related occupations.
Skill type 3: Health occupations.
Skill type 4: Occupation in education, law, social, community, and government services.
Skill type 5: Occupation in art, culture, and relation to sports.
Skill type 6: Sales and service occupations.
Skill type 7: Trades, transports, and equipment operators and related occupations.
Skill type 8: Natural resources, agriculture, and related production occupations.
Skill type 9: Occupation and manufacturing in utilities.
Find out your NOC by clicking on the picture below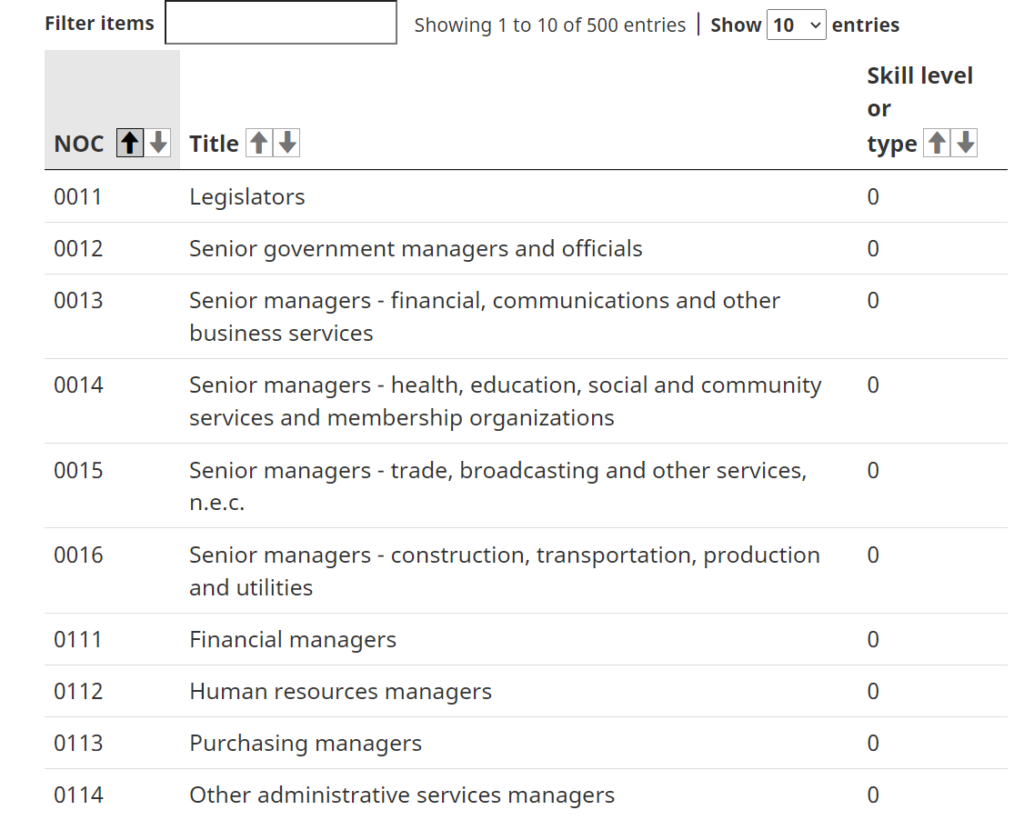 Want to apply for a Canadian visa? Click here to start the process with our help →