Updated Selection Criteria for New Targeted Express Entry Draws in 2023

Immigration Minister Sean Fraser made an exciting announcement regarding Targeted Express Entry Draws Criteria in 2023 with a focus on category-based selection for individuals seeking Canada permanent residency (PR).
The initiative undertaken by the IRCC (Immigration, Refugees, and Citizenship Canada) aims to effectively tackle labor shortages while simultaneously enhancing the vitality of communities through its renowned economic immigration management system, Express Entry.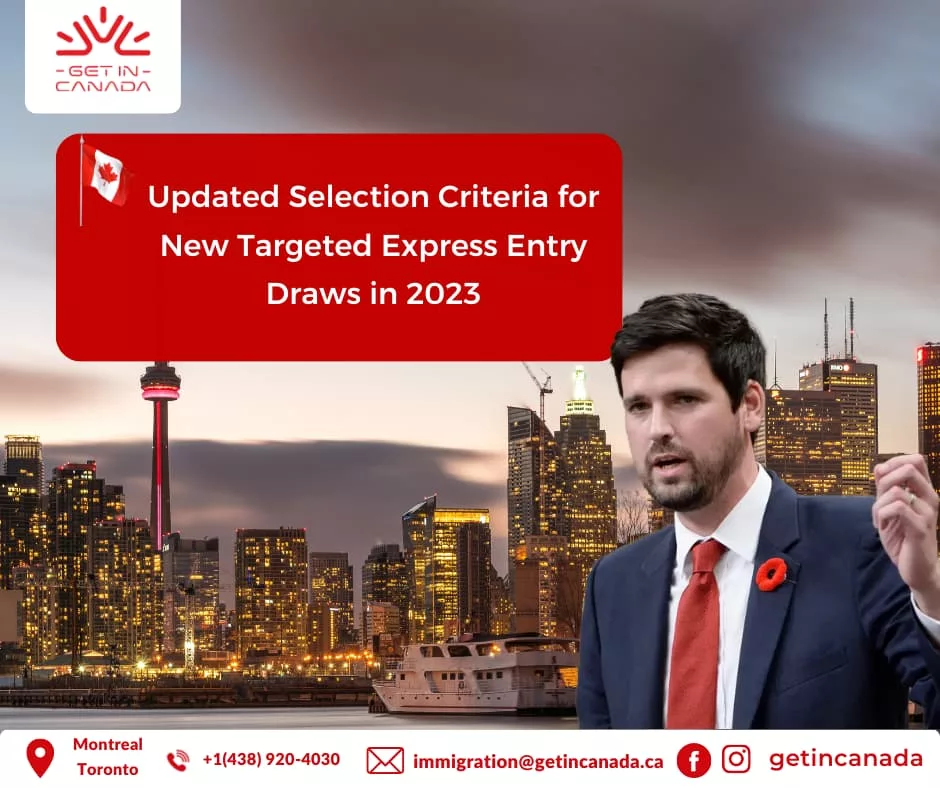 Overview of the Express Entry System
The Express Entry system is a point-based immigration management system used by the Canadian government to select skilled foreign workers for economic immigration programs. Candidates who meet the eligibility requirements can create an online profile and enter the Express Entry pool.
Purpose of Targeted Express Entry Draws
Targeted Express Entry Draws are designed to address specific labor market needs and economic priorities of different Canadian provinces and territories. These draws aim to invite candidates who possess the skills and experience required by particular regions or industries within Canada.
The adoption of a category-based selection process not only addresses the demands of the labor market but also enhances the efficiency of the Express Entry system.
By carefully choosing candidates who possess the potential to seamlessly integrate into Canadian society and contribute significantly to its future, the government ensures a continuous influx of skilled workers who will make valuable contributions to the nation.
"The responsiveness of Canada's immigration system to the social and economic needs of the country has never been greater." – The Honourable Sean Fraser, Minister of Immigration, Refugees and Citizenship
Updated Selection Criteria for 2023 Draws
The selection criteria for the New Targeted Express Entry Draws in 2023 have been revised to ensure a more tailored approach to immigration. The following factors will play a crucial role in the selection process:
For more Canadian visa inquiries? Click here to start the process with our help →
Introducing Occupation-Based Selection in the Latest Express Entry Draws
Canada's primary application management system for economic immigration, Express Entry, has now adopted a category-based selection approach. By specifically targeting individuals with work experience in key industries such as healthcare, STEM professions, trades, transport, and agriculture, Canada aims to invite highly skilled workers who are in high demand.
The new Express Entry draws will prioritize candidates who possess a minimum of 6 months of work experience within the last 3 years in any of the following sectors:
Provincial or Territorial Nominations
Provinces and territories may identify candidates in the Express Entry pool who meet their specific labor market needs. These candidates may receive a nomination, which significantly increases their chances of receiving an invitation to apply for permanent residency.
Education and Language Proficiency in Canada Targeted Draws
Education and language proficiency continue to be important factors in the selection process. Candidates with higher levels of education and strong language skills in English and/or French have a competitive advantage.
In addition to occupation-specific draws, there is a distinct category that prioritizes individuals with strong French language proficiency to provide support for French-speaking communities throughout Canada.
Express Entry profiles that meet the eligibility criteria, including French-language test results demonstrating a minimum score of 7 in all four language abilities on the Niveaux de compétence linguistique canadiens, will qualify for these draws.
By encouraging skilled individuals with a high level of French language proficiency to immigrate, Canada ensures the prosperity and preservation of vibrant cultural identities within French communities.
This commitment underscores Canada's dedication to fostering bilingualism and promoting language diversity.
"The Government of Canada's special emphasis on Francophone immigration ensures that French communities can continue to thrive in Canada, living in the official language of their choice." – The Honourable Sean Fraser, Minister of Immigration, Refugees, and Citizenship.
Tips for Enhancing Your Express Entry Profile
To improve your chances of being selected in the New Targeted Express Entry Draws, consider the following tips:
a. Occupations in Demand: Research and identify occupations that are in high demand in the provinces or territories you are interested in. Acquiring relevant work experience or upgrading your skills in these areas can increase your chances of receiving an invitation.
b. Provincial Nominee Programs (PNPs): Explore Provincial Nominee Programs (PNPs) offered by different provinces and territories. Some PNPs have streams aligned with the Express Entry system and can provide additional points or priority for candidates with a job offer or specific qualifications.
c. Improve Language Skills: Invest time in improving your language skills, particularly in English and French. Higher language proficiency scores can significantly boost your CRS score and improve your overall ranking in the Express Entry pool.
d. Education Credentials: Consider obtaining an Educational Credential Assessment (ECA) to evaluate your foreign education credentials. This assessment will help determine their Canadian equivalency and potentially increase your CRS score.
The New Targeted Express Entry Draws in 2023 are an exciting opportunity for skilled foreign workers to achieve permanent residency in Canada. By staying informed about the updated selection criteria and following the tips provided, you can enhance your profile and maximize your chances of receiving an invitation to apply. Remember to seek professional advice when needed. Good luck on your journey towards a new life in Canada!
For more Canadian visa inquiries? Click here to start the process with our help →