Build your Canadian Resume Easily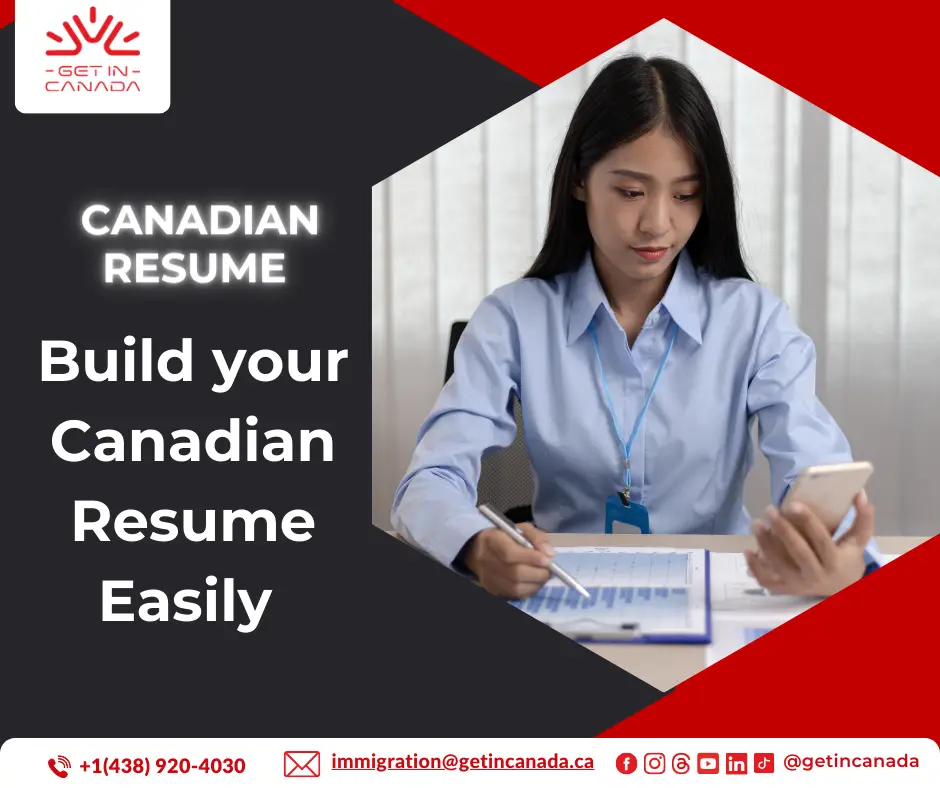 If you are a foreigner planning to come to Canada whether for Immigration, Work, or Study, you must know that the Resume is very important during your journey.
This blog will teach you how to build your Canadian Resume easily, you just need to put some effort into preparing your education, language, and work experience to make it work!
Understanding the Canadian Resume Format
Your resume is your personal marketing tool, showcasing your qualifications, experience, and achievements. It's a crucial document that can make or break your job application. While there are no hard and fast rules for creating the perfect Canadian resume, here are some essential guidelines to help you create a professional and reader-friendly document tailored to your unique experiences and the specific industry you're targeting.
What should a Canadian CV look like?
A resume, often referred to as a curriculum vitae (CV), is a comprehensive document summarizing your educational background, accomplishments, and work history.
Find out if you are eligible to get in Canada →
Formatting plays a significant role in how your resume is received. Follow these tips to ensure it looks professional and is easy to read:
Headings: Use clear headings for each section of your resume. This helps organize your information and makes it more accessible to the reader.
Length: Keep your resume concise, ideally between one to two pages. Overly lengthy resumes can deter employers, while extremely short ones may convey inexperience.
Font: Maintain consistency in font style throughout your resume. Limit yourself to two fonts: one for headings and another for content. Choose a professional-looking font, and ensure it's easy to read, especially when printed.
What to Include in Your Canadian Resume?
Name: Display your first and last name prominently, avoid writing your middle name. Your name should be the most prominent element on your resume.
Contact Information: Directly below or beside your name, provide essential contact details:

Email address.
Phone number.
Current residential address.
Your LinkedIn account if applicable.
Ensure this information is complete, allowing prospective employers to reach out easily.

Resume Summary or Objective: Begin with a brief summary or objective statement that highlights your career goals and key qualifications. Tailor this section to the specific job you're applying for.
Work Experience: The work experience section is one of the most critical parts of your Canadian resume. List your previous work experiences in reverse chronological order, starting with your most recent job. Include the following details for each position:

Job title.
Company name and location.
Employment dates (month and year).
3 to 4 Bullet points detailing your responsibilities and achievements. Focus on quantifiable accomplishments and use action verbs to describe your contributions.

Education: Begin with your highest degree and work downwards. If you hold multiple degrees at the same level, prioritize them based on relevance to the job. For each degree, include:

Program of study
Name of the institution
Degree earned
Graduation date.
Optional:
Volunteer Work: Canadian employers highly value volunteer experience. Include relevant volunteer roles that align with your target industry or emphasize traits and skills relevant to the position. For each volunteer experience, detail:
Your position
Organization Name
Duration
Three key responsibilities or duties
Optional:
Achievements: If you've received awards or recognitions that match the job you're seeking, include up to three of the most relevant and significant achievements. Provide a brief description of the award's significance.
Tailor Your Resume for the Canadian Job Market
Research the Job Market: Before creating your Canadian resume, research the specific industry and job market you're interested in. Different sectors and regions may have varying expectations for resumes.
Customize for Each Job: Tailor your resume for each job application by aligning your qualifications with the specific job requirements. Use keywords from the job posting to make your resume more relevant.
Use Canadian Spelling and Language: Canadian English follows British English in spelling and grammar conventions. Ensure your resume uses Canadian English, including words like "favourite" and "centre."
Address Canadian Experience: If you're new to Canada and lack Canadian work experience, emphasize your transferable skills, international experience, and adaptability. Consider volunteering or seeking internships to gain local experience.
Network: Building a professional network is essential in Canada. Attend industry events, join LinkedIn groups, and connect with professionals in your field to increase your chances of finding job opportunities.
Do not Include in Your Canadian Resume
Here is a list of things that are not preferable to add to your Canadian Resume:
Over Personal Information: Avoid including details such as gender, nationality, religion, weight & height, age, family status, sexual orientation, disability, or blood type.
Annexes: Do not attach annexes or additional documents to your resume. Keep it concise within two pages.
Personal Pictures: There's no need to include a photograph of yourself with your resume.
Information About Your Parents: Your resume should solely focus on your qualifications and experiences.
References: The employers will request them if needed during the hiring process, so always make sure to provide references "Upon Request".
Find out if you are eligible to get in Canada →