How can I study in Canada in 2023?
Canada is known for its high education quality, so it would be your best destination to study in, You just need to gather your documents and the most important thing is to get your language test done, then you can proceed in your study process.
Pursuing higher education in Canada is a dream shared by many, and we are here to help you turn that dream into a reality, we will provide you with a roadmap to navigate the Canadian education system, offer valuable insights into the application process, introduce you to the diverse range of universities and colleges, and equip you with essential tips for thriving academically and personally during your time in this beautiful country.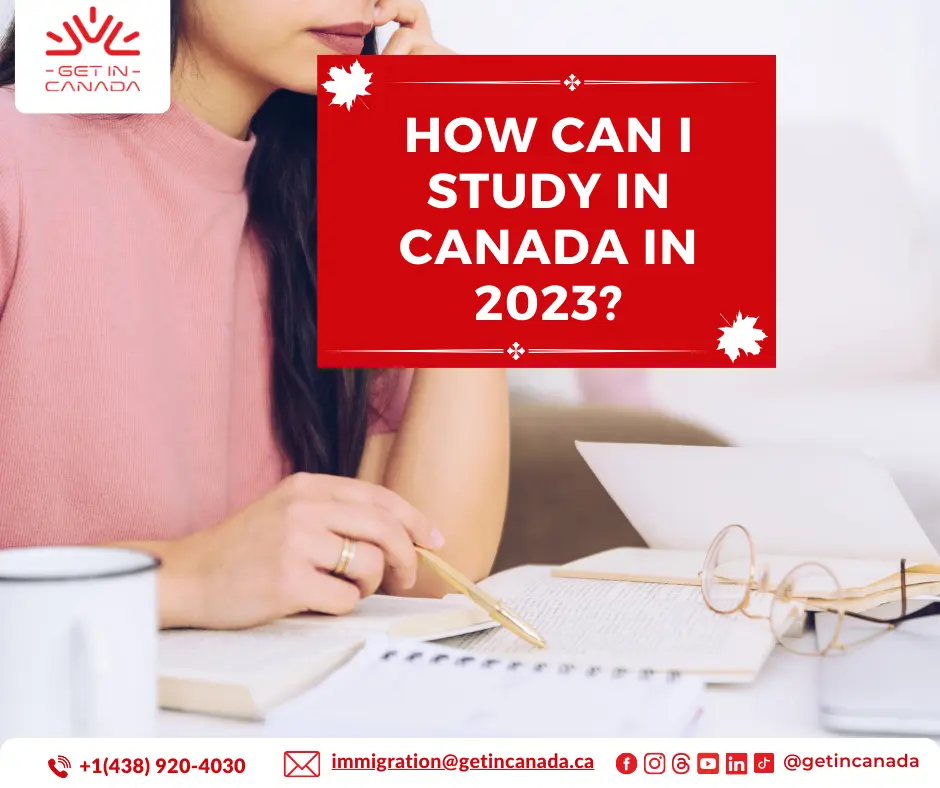 What are the new rules for international students in Canada in 2023?
If you are an eligible study permit holder, you can work off-campus for more than 20 hours per week without a work permit.
What are the benefits you will get from this new rule?
You will:
Gain extra money to support you in living expenses, tuition fees, and so on.
Gain more experience to get better opportunities after graduating.
There are also new rules for the exemption of the medical test for international students.
Here are all the documents you will need to apply for a study permit in Canada:
A valid passport.
Proof that you can pay your tuition fees and that you can cover yourself financially, let's discuss the least bank balance for the Canadian study permit:
| Number of apllicants | Minimum bank balance |
| --- | --- |
| The applicant | 10,000 CAD |
| 1 family member with the applicant | 4,000 CAD |
| Each additional family member | 3,000 CAD |
Letter of acceptance from a Designated Learning Institution (DLI).
Personal picture (same size as passport picture, which is 35 mm x 45 mm), write your name and date of birth behind each picture, and also this picture must be not older than 6 months.
Proof of having the medical test done.
Proof of passing English test with a high score.
A document to state your purpose of travel.
A credit card is required to pay your application fee.
Find out if you are eligible to get in Canada →
Tuition fees in Canada varies in case of international graduate or undergraduate, we will discuss the fees for both cases in the following:
International graduate fees are around $21,100 per year.
International undergraduate fees are around $36,100 per year.
These fees also vary depending on the school or the university and the program you choose.
Living fees for you as an international student can be around 15,000 CAD.
If you have got your Post Graduate Work Permit (PGWP) you can stay in Canada for up to three years on an open work permit after graduating.
If you want to stay in Canada as a worker, you have 90 days after you receive your final grades to apply for a Post Graduate Work Permit.
If you want to stay in Canada after finishing your study period as a visitor, you can apply for a visitor record which will allow you to stay in Canada as a visitor, but to apply for the visa record you have to submit your application before you finish the 90 days after completing your study.
How long does a Canada student visa take?
Canada student visa can be obtained in a range between 4 weeks to 90 days, some factors might affect this period. So as soon you can get your acceptance letter, start your process directly.
When you should apply for a Canada student visa?
Here is the intake time for each season:
Fall Intake starts in September.
Winter Intake begins in January.
Spring Intake starts in May.
If you are a full-time student, the answer is yes you can work on campus without a work permit. If you are a full-time student in the academic, professional, or vocational training program, you can work off-campus.
Canada offers a world of opportunities, and by taking advantage of its exceptional education system, you can unlock your full potential and shape a bright future.
Remember that studying in Canada is not just about achieving academic excellence—it's about embracing new experiences, forming lifelong connections, and immersing yourself in a vibrant culture. Make the most of your time by exploring the local community, participating in extracurricular activities, and seizing every opportunity to grow and learn.
Find out if you are eligible to get in Canada →