The most 20 in-demand jobs in Montreal, Quebec
In this blog, we will explore the most in-demand jobs in Montreal, Quebec. As a vibrant city known for its rich culture and thriving economy, Montreal offers a plethora of opportunities for job seekers. Whether you're a recent graduate, a seasoned professional, or someone contemplating a career change, understanding the current job market trends can play a vital role in your success.
We will also delve into the top in-demand jobs in Montreal and shed light on the industries driving its growth. So, let's dive in and discover the exciting career prospects this city has to offer!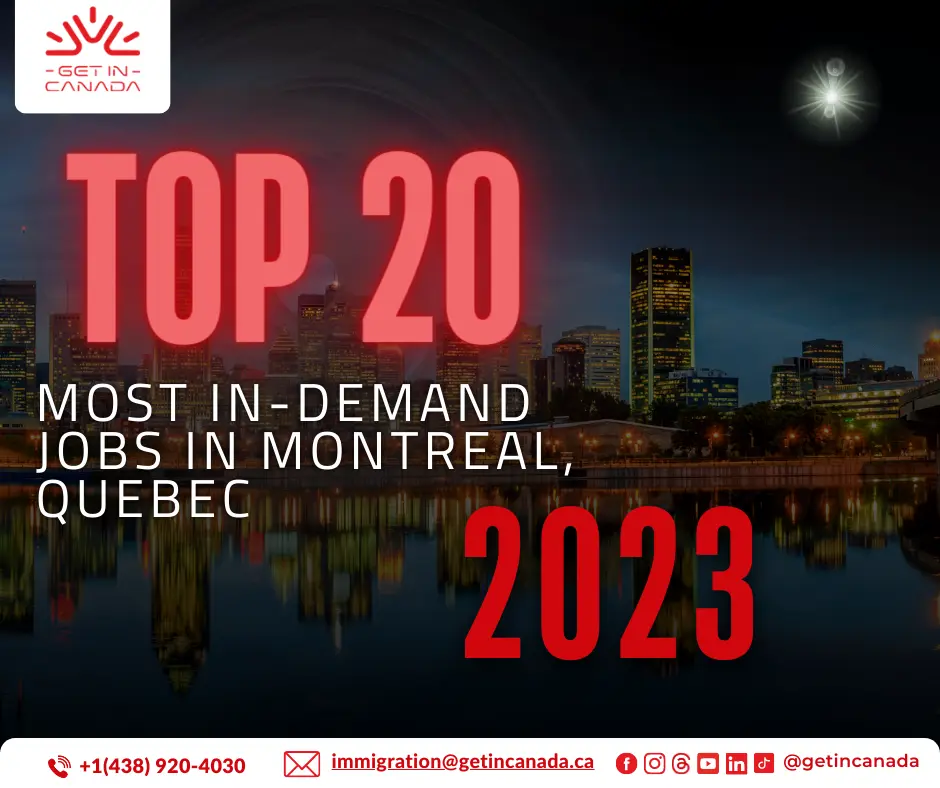 The most 20 In-Demand jobs in Montreal
Here is the full list:
Healthcare Professionals (NOC Code: 31303):
The field includes those who work as a nurse, physicians (such as family physicians, internists, obstetricians, psychiatrists, radiologists, surgeons, etc.), physician assistants, registered dietitians, veterinarians, veterinary technicians, optometrists, pharmacists, pharmacy technicians, medical assistants, physical therapists, occupational therapists, dentists, midwife, psychologists, audiologists, healthcare scientists, or who perform services in allied health professions. Experts in public health and community health are also health professionals.
The average salary for healthcare professionals can be around 22.69 CAD per hour.
Pharmacists (NOC Code: 31120):
A pharmacist, also known as a chemist (Commonwealth English) or a druggist (North America), is a healthcare professional who specializes in the preparation, dispensing, and management of medications to ensure safe and effective use, while also providing medication counseling and guidance to patients and healthcare providers. Also, pharmacists often serve as primary care providers in the community and may offer other services such as health screenings and immunizations.
The average salary for pharmacists can be around 58.29 CAD per hour.
Biotechnology Researcher (NOC Code: 22110):
It is the use of biology to solve problems and make useful products. The most prominent area of biotechnology is the production of therapeutic proteins and other drugs through genetic engineering.
The average salary for a biotechnology Researcher can be around 38.26 CAD per hour.
Film and Television Production Crew:
It is a group of people, hired by a production company, to produce a film or motion picture. The crew is distinguished from the cast, as the cast is understood to be the actors who appear in front of the camera or provide voices for characters in the film.
The average salary for a production worker can be around 18.22 CAD per hour.
Digital Marketing Specialist (NOC Code: 11202):
A Digital Marketing Specialist, or Digital Marketer, is responsible for helping maintain a brand by working on marketing campaigns. Their duties include performing market research, strategizing with other marketing professionals, and creating content to aid in the success of marketing campaigns.
The average salary for a digital marketing specialist can be around 35 CAD per hour.
Social Media Manager (NOC Code: 10022):
A Social Media Manager is a professional who provides the voice for a company across social channels. They are responsible for responding to comments and creating content. Social Media Managers look for opportunities to increase brand exposure for their assigned company.
The average salary for a social media manager can be around 21.20 CAD per hour.
Bilingual Customer Service Representative (NOC Code: 64400):
A representative specializes in responding to calls using English or another foreign language (French). Among their primary responsibilities include assisting customers and addressing any inquiries, concerns, or issues that they may raise.
The average salary for a bilingual customer service representative can be around 19 CAD per hour.
A person who has the responsibility of the planning, procurement, and execution of a project, in any undertaking that has a defined scope, defined start, and a defined finish; regardless of industry.
The average salary for a project manager can be around 58.11 CAD per hour.
Video game developers manage game development projects and guide other creators. They ensure the story, graphics, sounds, designs, interfaces, and mechanics within a game all function properly together.
The average salary for a video game developer can be around 38 CAD per hour.
Software Engineer/Developer (NOC Code: 21231):
Software developers create computer programs and solve technical problems using their creativity, analytical thinking, and problem-solving skills. With the world becoming more digitized, these professionals are high in demand. While software development is a lucrative profession, you need to have the necessary education, qualifications, practical training, and skills to be successful in this career.
The average salary for a software engineer/developer can be around 36.56 CAD per hour.
Find out if you are eligible to get in Canada →
Data Scientist/Analyst (NOC Code: 21211):
A data scientist is an analytics professional who is responsible for collecting, analyzing, and interpreting data to help drive decision-making in an organization. The data scientist role combines elements of several traditional and technical jobs, including mathematician, scientist, statistician, and computer programmer. It involves the use of advanced analytics techniques, such as machine learning and predictive modelling, along with the application of scientific principles.
The average salary for a data scientist/analyst can be around 67 CAD per hour.
UX stands for "user experience," and UI stands for "user interface." You'll often see them lumped together as they are two closely related professions that often work hand-in-hand.
The average salary for a UX/UI Designer can be around 48 CAD per hour.
Artificial Intelligence (AI) Specialist:
Artificial intelligence specialists can specialize in a variety of routes within the world of artificial intelligence. For example, they can program cognitive simulations to use computers to test how the human brain works or work in applied AI, which uses the principles of artificial intelligence to solve a variety of problems.
The average salary for an artificial intelligence (AI) specialist can be around 56 CAD per hour.
Aerospace Engineer (NOC Code: 21390):
Aerospace engineering is the primary field of engineering concerned with the design, development, testing, and production of aircraft, spacecraft, and related systems and equipment. The field has traditionally focused on problems related to atmospheric and space flight, with two major and overlapping branches: aeronautical engineering and astronautical engineering.
Aeronautical Engineering focuses on the theory, technology, and practice of flight within the Earth's atmosphere.
Astronautical Engineering focuses on the science and technology of spacecraft and launch vehicles.
The average salary for an aerospace engineer can be around 23.38 CAD per hour.
Cybersecurity Analyst (NOC Code: 21220):
A cybersecurity analyst is a trained cyber professional who specializes in network and IT infrastructure security. The cybersecurity analyst thoroughly understands cyberattacks, malware, and the behaviour of cyber criminals, and actively seeks to anticipate and prevent these attacks.
The average salary for a cybersecurity analyst can be around 26 CAD per hour.
E-commerce associates ensure that online stores are visually appealing, easy to navigate, and furnished with accurate, up-to-date content. Many e-commerce associates are heavily involved in the quality assurance of such website content, while others perform the IT-related tasks that underpin these systems.
The average salary for an E-commerce manager can be around 21.74 CAD per hour.
Financial Analyst (NOC Code: 11101):
A financial analyst is a professional, undertaking financial analysis for external or internal clients as a core feature of the job. The role may specifically be titled securities analyst, research analyst, equity analyst, investment analyst, or rating analyst.
The average salary for a financial analyst can be around 40.19 CAD per hour.
Architect (NOC Code: 21200):
Architects are professionals trained in the art and science of building design. They develop the concepts for structures and turn those concepts into images and plans, which eventually may become homes, office buildings, and other facilities. Their work involves more than just the appearance of a structure.
The average salary for an architect can be around 68.98 CAD per hour.
The development of processes and infrastructure for the supply of water, the disposal of waste, and the control of pollution of all kinds. These endeavors protect public health by preventing disease transmission, and they preserve the quality of the environment by averting the contamination and degradation of air, water, and land resources.
The average salary for an environmental engineer can be around 37.94 CAD per hour.
Language Interpreter/Translator:
Interpreters and translators convert information from one language into another language.
The average salary for a language interpreter/translator can be around 20.24 CAD per hour.
What jobs pay well in Quebec?
These jobs can be considered from the highest wages in Quebec:
Functional Architecture Consultant
Operations Manager
Finance Director
Accounts Director
Inspector
Business Development Manager
Main Analyst
Java Programmer
Pharmacist
Sales Manager/Assistant
Montreal, Quebec, presents a dynamic and diverse job market, catering to a wide range of industries and professions. From technology and healthcare to creative arts and finance, the city offers ample opportunities for individuals seeking in-demand jobs. By staying informed about the current trends and market demands, job seekers can position themselves for success in their chosen fields. Whether you're a resident or considering a move to Montreal, exploring the most in-demand jobs can guide your career decisions and help you thrive in this vibrant city. So, take the leap, leverage your skills, and embark on a promising professional journey in Montreal, where exciting possibilities await.
Find out if you are eligible to get in Canada →