Learn How Targeted Express Entry draws will Impact you in 2023 
This year will witness the launch of targeted Express Entry draws, and an official announcement is imminent in compliance with Bill C19.
The IRCC's review of the newly proposed Express Entry categories concluded on January 8, 2023 proposing 4 main categories.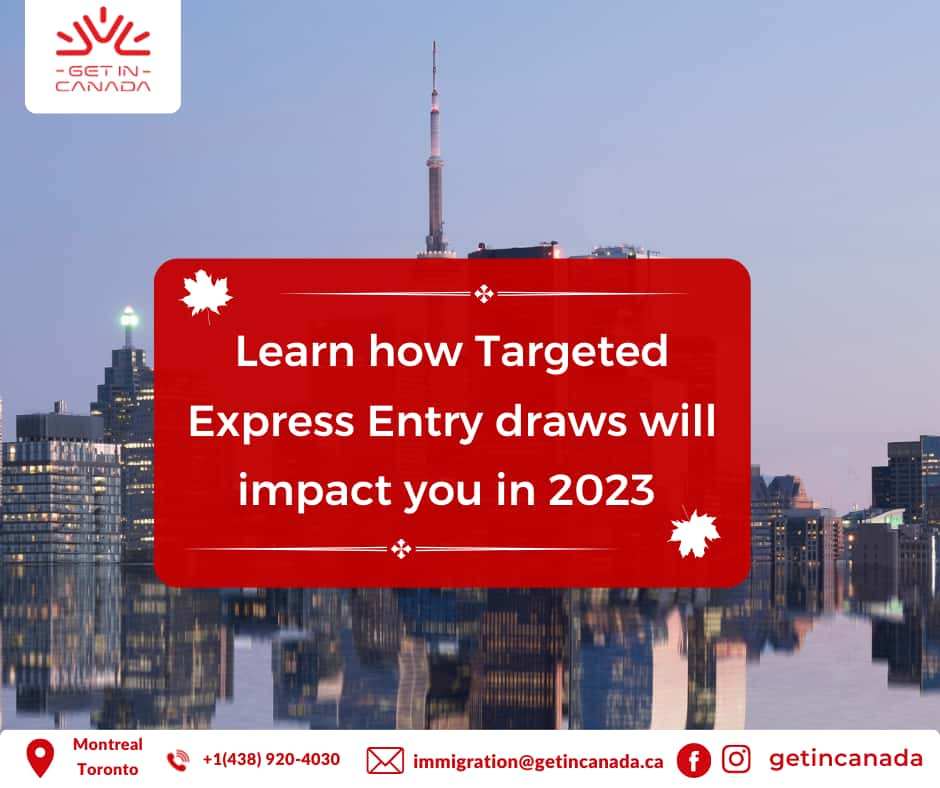 The four main categories criteria that have been proposed offer a clear indication of what we can anticipate from the draws aimed at specific groups of applicants. It is possible that this is why IRCC has yet to conduct a draw for the Canadian Experience Class (CEC).
We will explore how these draws will impact those who are applying through Express Entry.
For more Canadian visa inquiries? Click here to start the process with our help →
The 4 purposed categories criteria are:
Selecting candidates based on work experience in a particular occupation or sector.
Transitioning international student graduates to permanent residence
Transitioning temporary foreign workers to permanent residence
Selecting Francophone and bilingual candidates
1. Individuals who possess specific occupations/NOCs are expected to gain the greatest advantages in EE
The IRCC's proposal for the first category has explicitly mentioned that candidates will be selected based on their work experience in specific occupations or sectors with significant labor shortages. The proposed category has identified several occupations that were in high demand between 2019 and 2021, which includes:
Click here to Find your NOC according to your occupation
This suggests that Express Entry candidates with similar work experience in high demand occupations could potentially receive an invitation to apply with a lower Comprehensive Ranking System (CRS) score in a targeted draw. Moreover, Federal Skilled Worker (FSW) and Canadian Experience Class (CEC) candidates in the pool who possess experience in these key occupations might also have an opportunity to receive an invitation with an even lower score.
This process could be similar to the recently introduced Manitoba Provincial Nominee Program (PNP) occupation-specific draws, but would be applicable to all immigration programs.
2. International students and work permit holders of key sectors will get better opportunities in Targeted Draws
Canada has been making efforts to retain global talent and address workforce shortage, in a bid to compete with other G7 Countries.
"The G7 is an informal grouping of seven of the world's advanced economies, including Canada, France, Germany, Italy, Japan, the United Kingdom, and the United States, as well as the European Union".
The IRCC has expressed its unwavering commitment to helping foreign graduates acquire permanent residency status PR, and its focusing on selecting eligible candidates from Designated Learning Institutions DLI who have completed degree or diploma programs in high-demand fields.
It is highly likely that graduates possessing relevant education and work experience in these priority sectors will have a greater chance of being issued an Invitation to Apply ITA as international students. It is highly likely that graduates possessing relevant education and work experience in these priority sectors will have a greater chance of being issued an Invitation to Apply ITA as international students.
3. "No program specified" is the future of Express Entry
The Express Entry Program's future includes targeted draws as part of overall invitations to apply, according to IRCC. Regular invitations based on Comprehensive Ranking System CRS scores and specific programs will also continue.
It is also expected that CRS cut-off scores may rise in "No Program specified" draws. Candidates hoping to apply or already in the pool should strive to increase their CRS scores or seek Provincial Nomination. Additionally, we may see more Federal Skilled Worker FSW draws like the one in February 2023.
4. Francophiles are expected to have the highest acceptance rates in Express Entry
IRCC is trying to give continuous support to keep Francophiles in Canada. In addition to upgrading the new budget that proposes $123 million for francophone immigration. The new targeted Express Entry draws will prioritize 2 factors:
Addressing persistent labour shortage & long term planning..
Reinforcing Francophone immigration in addition to the economic growth in francophone communities.
In addition, bilingual candidates can receive an extra 50 points for their proficiency in both English and French. One of the proposed categories even includes targeted Express Entry draws exclusively for Francophones.
Moreover, bilinguals have more job opportunities after settling in Canada, making it advantageous for Express Entry candidates in the pool to learn French.
Express Entry has become increasingly difficult with a high Comprehensive Ranking System (CRS) score cut-off in recent times. Nonetheless, it is projected that individuals with work or educational backgrounds in high-demand sectors and lower CRS scores will find it easier to qualify.
On the other hand, some applicants who do not fit the criteria for targeted draws may face even more competition, but they could still be eligible to receive an Invitation to Apply (ITA). And currently, no official confirmation has been made regarding these changes, but we suggest that you start taking steps to enhance your Express Entry CRS score.
For more Canadian visa inquiries? Click here to start the process with our help →