Visitors Can Now apply for a Work Permit in Canada until 2025
Foreign visitors who are currently visiting Canada can continue applying for a work permit while staying but need to receive a valid job offer. This policy was temporary for visitors inside Canada and was supposed to expire on the 28th of February 2023, but was set to be extended for two more years, until the 28th of February, 2025.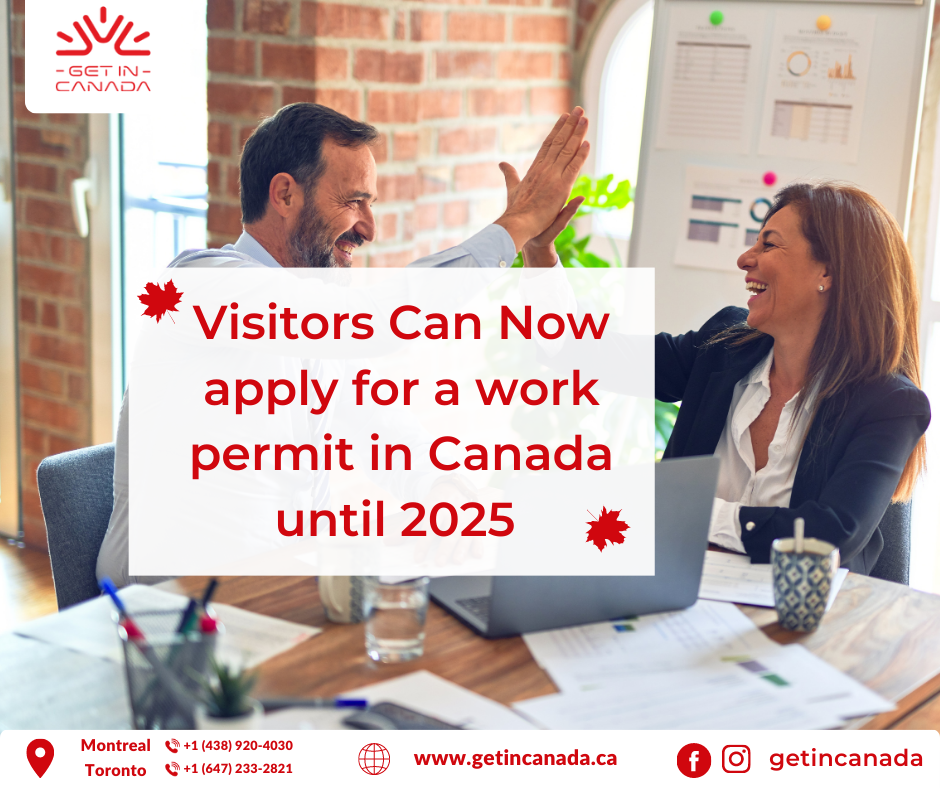 This decision came out due to the huge labour shortage in Canada, and employers' severe need for more vacancies to be filled by foreigners, as well as Canada's economic expansion.
How was it possible for visitors who get in Canada to apply for work in Canada before?
Prior to this policy, foreign nationals would apply for a work permit before coming to Canada. And in case they were already visitors in Canada and got approved for a work permit, they would need to leave the country to have their work permit issued. It's much easier now, you can be a visitor and acquire your work permit at the same time!
For more Canadian visa inquiries? Click here to start the process with our help →
IRCC has declared that foreign visitors looking to benefit from temporary policy change must:
have valid status in Canada as a visitor on the day they apply
have a job offer that is supported by a labour market impact assessment (LMIA) or an LMIA-exempt offer of employment
submit an application for an employer-specific work permit no later than February 28, 2025
meet all other standard admissibility criteria
What is an LMIA?
Labour Market Impact Assessment is an application made by the employer to the Employment and Social Development Canada ESDC to determine if hiring a foreign worker will have a Positive, Neutral, or negative impact on Canada's economy. In case the ESDC decides it will have a negative impact, it will not be possible for the employer to hire foreign workers to get in Canada.
Jobs with high-demand in Canada for 2023 year
As Canada continues to grow and develop, the demand for certain professionals and occupations is expected to increase in the coming years. With the country's population projected to reach 40 million by 2023, the demand for certain professionals and occupations is expected to rise.
The most in-demand occupations in Canada for 2023 are due to the aging population and the need for more professionals and are expected to be in the fields of:
Healthcare: Healthcare occupations such as registered nurses, medical doctors, and medical technicians.
Technology: Technology occupations such as software developers, computer systems analysts, and web developers demand due to the increasing reliance on technology in all aspects of life.
Engineering: such as Civil Engineers.
As Canada continues to welcome more immigrants to get in Canada, the particulars of each province's Provincial Nominee Program (PNP) will be determined by the number of job vacancies, the occupations that are in high demand, and the amount of hiring that is taking place. Express Entry-based programs are also shifting towards targeted draws, with those in sought-after professions being more likely to receive an Invitation to Apply (ITA) during the execution of this policy.
For more Canadian visa inquiries? Click here to start the process with our help →